The outbreak of the war in Ukraine in February 2022 forced millions of families to flee their homes in search of a safe refuge, protection and support. Since the beginning of the conflict, an estimated 17.7 million people are in need of humanitarian assistance and protection across Ukraine (UNHCR data updated November 2022). Civilian infrastructures have been severely impacted, buildings destroyed in urban centers and thousands of houses damaged or demolished across the country, for a total of 6.2 million displaced people and 7.8 million refugees in neighbouring countries. Most of them are women and children.
WeWorld immediately intervened in March 2022 to support people displaced from areas in the east of the country and to provide humanitarian aid by activating on-site partners early on and then organizing a stable emergency response in the country.
WeWorld field offices in the country are currently in Lviv, Kyiv, Kharkiv and Izmail (Odessa region). We work alongside those who, despite the conflict, have decided to stay, those who have returned after leaving their homes and those who have been displaced in these regions from other areas of the country.
We are also active in Moldova, to support people who decided to leave Ukraine and in Italy, where we support Ukrainian women in WeWorld Women's Spaces.
The context
According to UNHCR data, more than 7 million refugees from Ukraine have been registered across Europe. Most people fled to neighbouring countries such as Moldova, Poland, Romania, Hungary and Slovakia. There are also millions of internally displaced persons, mostly women, children and the elderly who, in search of a safe place to live, have reached the western areas of the country.
Entire families abandoned their homes and all their possessions overnight, in the hope of being able to return soon. However, almost a year after the beginning of the conflict, they are still forced to live in reception centres or temporary shelters because their homes are still unsafe. Many know that they will never be able to get back what they left because the war has destroyed homes, schools and taken away everything they had.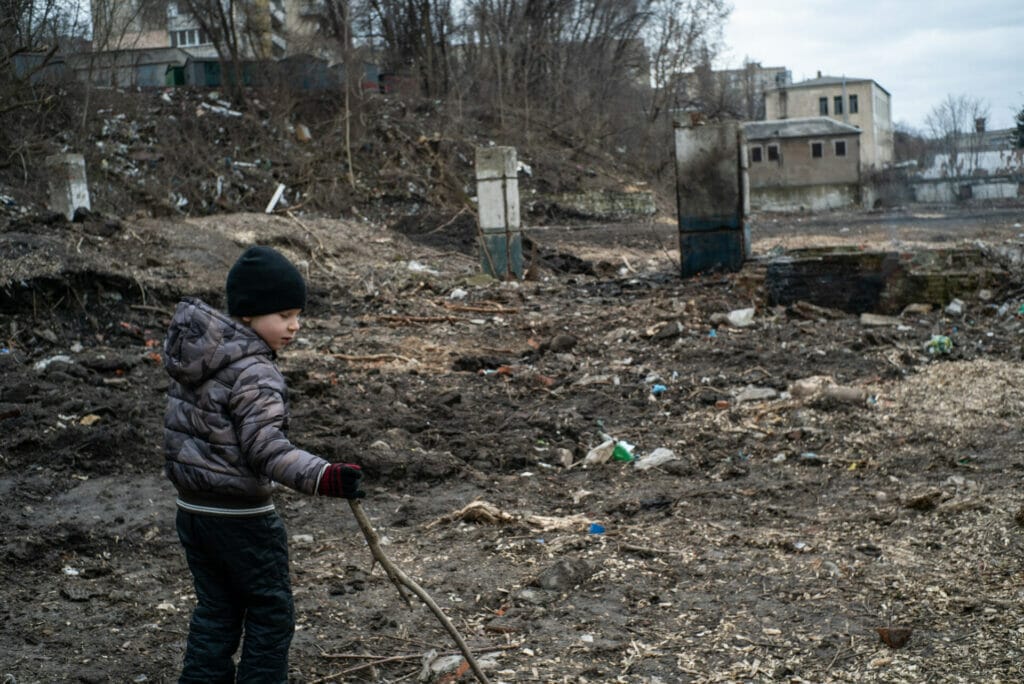 Our intervention
WeWorld, together with ChildFund Alliance, immediately took action to address the emergency at the beginning of the conflict and then continued its commitment in Ukraine and Moldova alongside the population affected by the ongoing conflict.
Today we are present in the areas of Lviv, Kyiv, Kharkiv and Odessa to support children and their families by providing food, shelter, medicines and basic needs. To date WeWorld has supported 68,000 people, half of whom are children.
In Lviv, WeWorld provides integrated assistance to address basic needs to displaced persons currently housed in informal reception centers throughout the Lviv region. We have activated 6 child-friendly spaces, we have distributed food, non-food items and hygiene kits in 12 centers to reach over 3,400 people. We provide cash assistance as direct economic support and organize psycho-social support activities for more than 10,000 people in the region, especially women and children. Psychological support is a component that accompanies all our interventions and which we believe is essential for the health of women and children who are experiencing the stress of a conflict.
WeWorld office in Kiev covers cash assistance activities and responds to the winter emergency with the distribution of winter kits - heaters, blankets and jackets - in the northern area of ​​the country. After more than 1 million people returned to the Kiev region after its liberation WeWorld has launched a mitigation intervention with a particular focus in Irpin where we offer financial support for the purchase of medicine, food and shelter and where we distribute winter kits to more than 2,400 people including displaced persons, families who have returned to the area and people who never left their homes, even during the attacks.
In Kharkiv and in newly liberated areas the situation is even more difficult, in these areas the buildings destroyed by the bombings do not guarantee any protection from the cold and it is essential to provide basic items and food for the families who have remained or returned to this area. There is a lack of fuel and electricity and many houses have been damaged. In Kharkiv WeWorld provides assistance to address the winter season through the distribution of 6000 non-food items and winter kits consisting of clothes, heaters and blankets.
In the province of Odessa WeWorld operates thanks to the support of local organizations, to hellp displaced people near the border with Moldova, in the districts of Izmail and Reni, hosted mainly in houses abandoned by people fleeing the country and often without most basic conditions for livelihood.
WeWorld is also responding to the Ukrainian crisis in Italy by providing women and their children a safe place in WeWorld Women's Spaces in Milan and Bologna. Here, thanks to the linguistic and cultural mediation service, Ukrainian women can take Italian courses, receive psychological support and receive job orientation to regain their social and economic independence. While the mothers are busy, children are welcomed in the Child Care area designed to allow boys and girls to play in a safe space.
---
WeWorld interventions in Ukraine are possible thanks to the support of AICS, UN-OCHA, ChildFund Alliance, the Emilia-Romagna Region, Legacoop and its member cooperatives, and many companies and people who are supporting us.