People at the heart of change
Change is triggered by people. This is why our main resource is our staff, which employs and adapts its highly-specialised skills, methodology and tools for the context in which we operate.
Each project employs a teamwork-based approach between our staff and local and international staff, drawing on innovative strategies and multi-sectoral synergies to prioritise the needs of the communities and provide solutions that communities make their own, for results that can be replicated independently. The support of interns, trainees and community service volunteers is also very important.
In the last year our projects have been carried out thanks to the work of 1,040 people: 46% women and 54% men, 407 Italian and expats and 633 coming from the countries in which we operate.
1.040

Staff

218

Collaborators

68

Interns, trainees and volunteers
0

%

Operating in Italy

0

%

Operating worldwide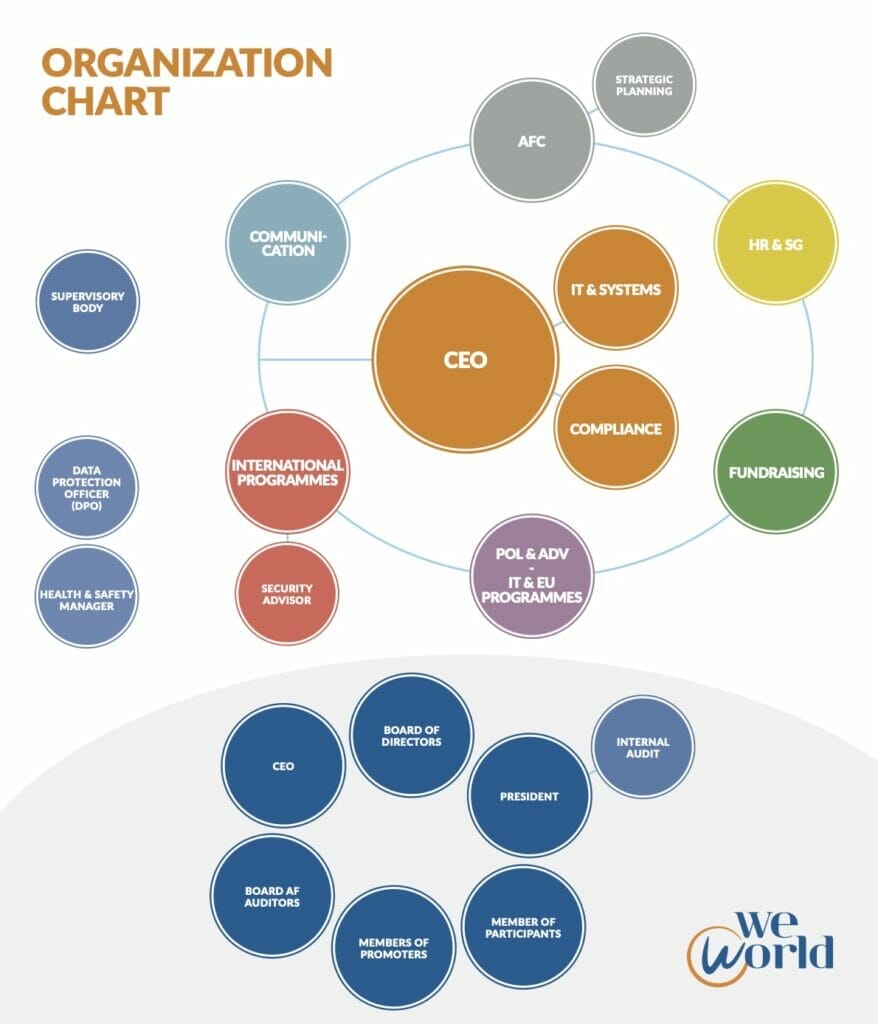 Offices
Registered Office
Milan Via Serio 6 | 20139 – Milan | T +39 0255231193 | F + 39 0256816484
Operational Headquarters
Bologna Via Francesco Baracca 3 | 40133 – Bologna | T +39 051585604
Milan Via Serio 6 | 20139 – Milan | T +39 0255231193
Other Offices In Italy
Bolzano, Trentino Alto Adige | Turin, Piedmont | Imperia, Liguria | Ancona, Marche | Rome, Lazio | Naples and Caserta, Campania | Palermo, Sicily | Cagliari, Sardinia
Offices Worldwide
Havana, Cuba | Port au Prince and Gonaives, Haiti | Huehuetenango, Guatemala | Managua and Puerto Cabezas, Nicaragua | Fortaleza, Brazil | La Paz, Bolivia | Abancay, Peru | Bamako, Mali | Ouagadougou, Burkina Faso | Cotonou, Bohicon and Porto Novo, Benin | Bujumbura, Muyinga, Ruyigi, Cibitoke, Ngozi, Bubanza and Rumonge, Burundi | Dar es Salaam, Kigoma, Mtwara and Mbeya, Tanzania | Nairobi, Narok and Isiolo, Kenya| Maputo, Pemba and Chimoio, Mozambique | Tunis, Medenine, Sidi Bouzid and Kébili Tunisia | Tripoli, Libya | East Jerusalem, Ramallah, Tubas, Hebron and Gaza, Palestine | Beirut, Ain, Qobayat and Zahle, Lebanon | Damascus , Aleppo and Deir El-Zor, Syria | Goa, India | Kathmandu, Nepal | Bangkok, Thailand | Phnom Penh and Siem Reap, Cambodia.