Since 2019, Lebanon has been facing the most devastating financial crisis in its modern history. The COVID-19 outbreak, along with the 2020 explosion of the Port of Beirut, only compounded the economic meltdown and worsened existing inequalities. Very quickly, the Lebanese lira has lost over 98% of its value, while salaries have been drastically reduced and prices of basic goods such as food items, electricity, water and gas have skyrocketed. As a consequence, over 80% of the population has been pushed into poverty. In the meanwhile, public services have been degraded: unliveable teachers' salaries have led to strikes and school closures; at least one third of medical staff have left the country in less than two years; soldiers and police officers' real wages have dropped from $900 to less than $50 a month.
Lebanon's population of over 6 million — almost a quarter of whom are refugees — continues to struggle.
Since 2006, WeWorld-GVC supports vulnerable groups in the most marginalized areas of Lebanon – the Akkar Governorate and the Bekaa Valley -, by improving their water governance, food security, livelihoods, and resilience. Through our programs, we aim at bridging the gaps between emergency humanitarian aid and long-term development.
The governorate of Akkar has been particularly affected by the recent compounded crises and our intervention in the area has evolved according to the local needs. Since last year, with the support of the Lebanon Humanitarian Fund (LHF) and together with our local partner, Mada Association, we have provided life-saving food assistance and hygiene kits to 632 vulnerable households in Akkar, supporting over 5,300 people. Mada Association was established in 1999 in the highlands of Akkar and works through a territorial approach, constantly adapting to meet the territory's needs. Under the overall goal of reinforcing the relationship between local communities and the natural environment, Mada works closely with farming communities to promote sustainable practices and contribute to the agricultural sector's development.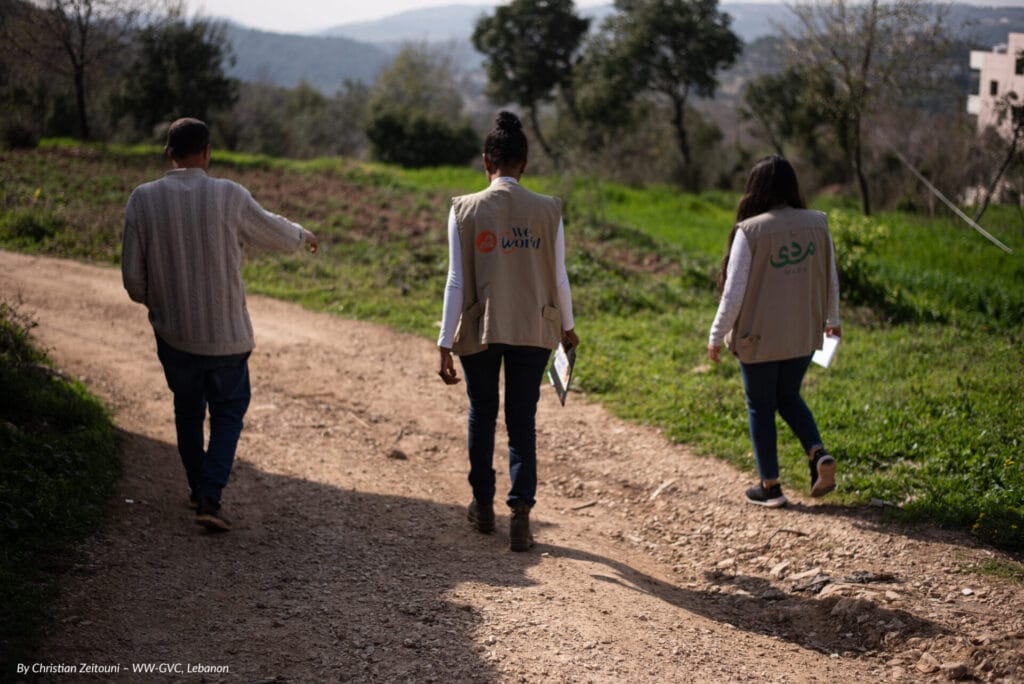 ---
The adoption of the in-kind modality for the project is based on the lessons learnt from previous projects implemented in the same area as well as from the needs registered during the assessments carried out through the targeted villages before the launching of the action.
Through three local cooperatives - for which we organised capacity buildings to maximise the impact and quality of the intervention as well as to make our support sustainable through time - we distributed for 6 months dry food parcels, fresh fruit and vegetable baskets according to the families' needs. Moreover, within the supported households, many received also menstrual hygiene kits. Agricultural tools, seeds and seedlings tailored packages have also been delivered to 226 smallholder farmers to bolster local self-sufficiency.
In March 2023, our team headed to the villages of Al Amayer and Tikrit to conduct follow-up interviews with the farmers involved in these activities. Recording their perspectives ensures that both present and future activities remain relevant to their needs, and it allows us to give visibility to their lived experiences and to their impressions on the project.
Ahmad Al Abdallah
"All people dream of the future, but we in Lebanon dream of returning to the past."
Ahmad is a 46-year-old schoolteacher and farmer. He and his wife, Zeinab, work together on the land, while balancing work and caring for their three children. Since the start of the crisis in 2019, their lives have changed dramatically. Ahmad's salary, once enough to cover all of their living expenses as well as educational needs, now barely stretches to cover food, water and the expenses linked to agriculture.
His situation mirrors those of other members of his village.
The teacher, the daily worker, the farmer, and all professions are at rock bottom. Even a person whose financial condition was good is now below the poverty line.
Despite their hardships, he still takes pride in the social ties he finds within his village, feeling that their cooperation and solidarity distinguish them from the rest of the region.
Here, people support each other a lot. Now I don't sell what I produce: I take what I need from the crops, and with the rest I feed over thirty families of neighbours and relatives. My friend wants to cultivate, but he has no experience — so I suggested him to buy materials, and I will teach him what I know. My other neighbour is a soldier. When he's done with work, he helps me plough the land, and I give him the season's crops in return. I don't distinguish between Syrian and Lebanese people: today, everyone needs help.
However, many structural issues run too deep to be addressed in such a manner.
The lack of affordable medical care is one of the biggest problems that we suffer from. Young people are now creating WhatsApp groups to collect cash assistance for patients. Yesterday, we raised $9,000 for a 7-year-old girl's open-heart surgery.
It is clear that foreign aid to the country grows more necessary by the day, but it often fails to address the pitfalls of the institutional neglect affecting the Akkar governorate. For instance, he points out that education is still one of the most neglected aspects of both domestic and international aid.
We need to educate our children to make sure they do better than us. There's a famous saying, 'Don't give me a fish, but teach me to fish' — and that's what should be done.
When it comes to agriculture, he states how his collaboration with our project has drastically improved his ability to help both his family and his wider community, mostly through the inputs and equipment that he received. This season, his surplus was enough for him to give 20 kilograms of potatoes to a nearby Syrian family in need.
One of the biggest obstacles for us is the high cost of seeds: 100 grams of parsley's seeds are now worth 130,000 LBP, over 400% more than before.
He also praised the delivery and effectiveness of the farming equipment he received.
The tools were excellent, especially the pipes. I have delayed using them until after the winter season, but from June I will start planting using drip irrigation. Thanks to our cooperation, costs are lower and planting success rates are higher.
The delivery of the kits helped the targeted families to go through the rough winter, but there are still some improvements to be made. Some seeds were delivered slightly late, however, it didn't affect their viability, and the overall harvest was evidently positive.
Ahmad does not seem certain of what lies ahead, but he retains more optimism than many of his compatriots.
Yesterday, I was reading an article that all people dream of the future, but we in Lebanon dream of returning to the past. Everyone wants to go ahead, and we wish to go back. Lebanese people are saying: "We wish that Lebanon would return to what it was before 2018, when the dollar was worth 1,500 LBP." It's hard to hear these things. I hope that we go forward and never go back.
The products from Ahmad's family land.

The products from Ahmad's family land.
Mohammad Abdul Wahab Noaman
"Without the project's support, I had no alternatives. Emigration would have been the only option to continue supporting my children's education."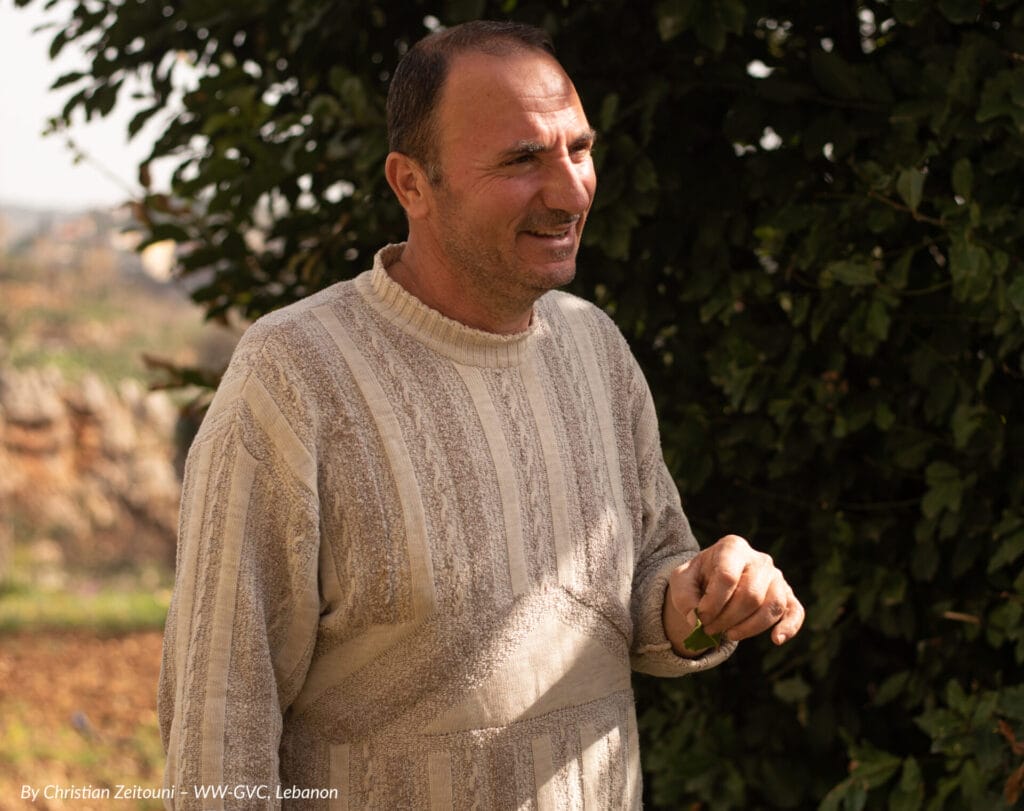 Mohammad lives in Tikrit with his wife and their four children, who are still in school. Prior to the crisis, he worked on laying fibre optic cables in Beirut; but following the economic freefall, he returned to his village to cultivate his own agricultural land.
The financial circumstances have left his family and his village facing unprecedented insecurity.
Now, we plan our life day by day. We're not able to plan a day ahead. Even the bus to school costs a lot of money, and I'm not sure I can cover it every month. There is a large section of people whose economic situation is very bad — for example, there is difficulty in hospitalisation and medical care because of poverty.
He identifies himself as part of a growing trend of people turning to self-subsistence for survival.
In the past 3 years, people are returning to agriculture, even on a small scale. It started with tins and small containers, even on the roofs of buildings and on balconies. We eat what we grow and distribute the surplus to neighbours and relatives, and everything extra is sold in local shops in the village.
This lifestyle seems to tie in with a wider community spirit of mutual support.
The most beautiful thing about this village is that people still love each other. We help each other, and we exchange the vegetables that we grow as a way of helping and cooperating. We still worry and care for each other.
However, there is a sharp disconnect between these communal ideals and the overarching structures affecting them.
We feel neglected in Akkar, and that our needs are not being addressed. Mainly associations and NGOs are present here, like yours, through food distribution and support to farmers as well as other sectors.
Local needs are also overshadowed within his line of work.
It is impossible to send products to the regional fresh food market due to the distance, transportation costs, and monopoly of big suppliers. And even if we get there, we could only sell at the lowest prices that wouldn't even cover fuel costs, let alone profit.
The support that Mohammad received through our project drastically changed the prospective of his family's future.
Before, I intended to emigrate outside the country. Without the project's support, I had no alternatives. Opportunities for daily work no longer exist, so immigration would have been the only option to continue to support my children's education. I would have headed for the Gulf, because I used to work in Saudi Arabia, and I might have better opportunities there.
Leaving your country is not easy. Migrating is almost never a choice — it becomes a fact you must deal with.
The project's effects can be felt throughout his community.
I wouldn't have been able to plant anything without the distribution kits. They helped improving the agricultural sector all over the village. The methodology was perfect and organised, as well as the follow up, giving advice and making sure the seeds were planted well.
Moreover, Mohammad outlines the main problems and needs that farmers are facing in the area as well as the limits of their communal way of living without further capacity building of local associations:
We have a major problem with irrigation and water extraction, due to power outages hindering the pumping of water, as well as the increased cost of fuel. An agricultural tiller or rail is a very urgent need due to the high cost of renting them — one tiller is over $10 an hour. But it must be given to one person, with an agreement for others to rent it. In Tikrit, there is no municipality or cooperatives: if the machine breaks down and it's community-owned, each person will blame the others. One person alone would be more responsible for it.
When asked about his wishes and expectations for the future, Mohammad echoed the hauntology that seems to be widespread throughout Lebanon.
We lost the ability to 'wish': we're too scared of today to think about tomorrow. I hope that my children will complete their education and that this generation will rejoice. Everyone wishes that the situation will return to what it was before, and that the dollar exchange rate will go back to 1,500 LBP.
For the Lebanese population, the situation has drastically deteriorated in the recent years, and it is crucial for NGOs to address the adopted coping mechanisms and the specific needs across the different sectors. One of the key solutions is to promote a return to agricultural self-production. WeWorld-GVC and Mada remain fully committed to stand alongside communities in Akkar, working closely with local partners, and actively seeking feedback and addressing the needs expressed by local voices.
Pillar 1: accountable and inclusive multi-sectoral response to Food Security and WASH needs of 4200 vulnerable people in Akroum, Joumeh and Wadi Khaled (Akkar governorate) July 1, 2022 – May 31, 2023
---